Number 31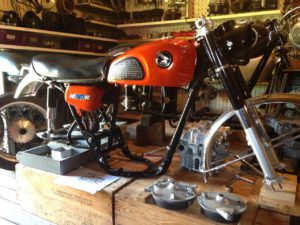 In 2005 I purchased a frame and several very early 450K0 parts from a guy in Holland who had a lot of K0 parts stored outside his house in a wet shed.
I bought frame, forks, side covers, carbs and other small things from him. All evry early parts as I could tell some years later.
The side covers have no indent for the sticker (=1965), the fork has very rough casted axle holders, etc.
The frame turned out to be no. 1000291 which is definitely 1965, and early enough to contain a 360 degree engine. So I went on the search for an engine and found one in 2008 on eBay. Correctly listed and in very bad shape. I won the auction at $500 and outbid the French CB450K0 club who send me a mail the day after. Hrhrhr
That is the story of frame and engine.
After I found the engine I decided to build the 360 bike. At the same time a set of NOS D-exhausts were for sale in the US incl. heat shields and brackets.
I had some spare money and bought them at 1200 USD, which is cheap considering the prices today.
Between 2008 and 2014 I went on and purchased a tank, two side covers, a kick start, side stand, foot pegs, rear light, handlebar, fenders front and rear and a seat pan. All in used and almost useless condition but me and a friend had already started restoring fenders etc.
Then in 2015 a guy from Bavaria had a complete D-kit listed on eBay and I spend all my savings on the complete kit: 4.000 EUR! And sold my kit to a guy who is running a Honda museum near Goettingen. He is actually building a D right now as well. His will be blue as my old tank was blue. No win, no loss for me here.
Since then the bike is slowly getting together. And I guess by next year she will hit the road.
I might search for a 1967 frame at some point just to give her the 100% correct outfit but for now I will have the D-kit in the 1965 frame.