Number 34
Historical :
The bike was on sale on Ebay on 22/08/2018.
Michael of Costa Mesa in California was the owner.
The bike was bought by a Frenchman who then imported it.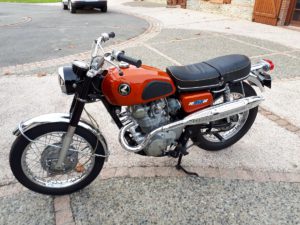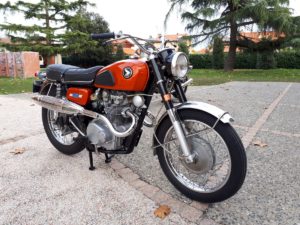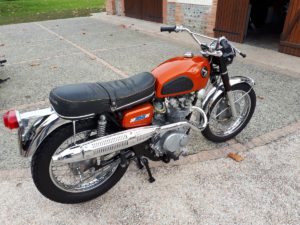 Here are the text and photos of the ebay ad:
My CB450D is completely original except tires.
It is in excellent unrestored condition. It has about 8500 original miles.
When I bought it, it had standard low exhaust, and the high pipes that came with it had never been installed.
They were still in the original factory wrapping. It has lived in California it's entire life and I believe
I am the third owner. I purchased it last year from a local guy who I believe was the second owner.
The well cared for motorcycle offered here is completely original except for tires. It has just 8530 miles from new and is immaculate. All of the paint, chrome, seat, nuts and bolts, cables, wires, hose clamps, etc. is FACTORY ORIGINAL. Nothing has been replated, painted or restored. The original seat has had new foam installed under the original cover. It all has a slight and wonderful patina to it that looks fantastic. The orange paint has a couple of small nicks and scratches, but shines beautifully. The original paint on the frame looks new with just a few areas of wear like the underside and center stand. The chrome is extremely shiny with just a hint of some slight freckles in areas. The engine clear coat is still visible on many surfaces of the engine and has been left alone. The silver paint on the horn and the starter cover have a slight bit of wear as does the black chain guard. There is no touch-up anywhere.  All of the cables are original and excellent.
This bike is well tuned and runs perfectly. It starts right up and literally rides like a new bike. It doesn't leak or smoke. It needs nothing. These "D" bikes have a very unique sound, different than the standard Black Bomber. The high pipes give it a cool "rap" to the already awesome exhaust note. The tires are older with nice tread, but they probably should be changed before riding any serious distance as a safety precaution due to their age.